I've been lurking around these forums for a while, but after finally getting my copy of
Flight
, I just
had
to post something. I mean, there's this huge
RESISTANCE IS FUTILE
thing going on in my head right now.
I'm Gabby, a fourteen year old geek currently situated in Oklahoma. (And I'm a girl, just so's you know.) I like hanging around bookstores while looking shady and drinking milk. (All kinds of milk, including goat and soy. MMMM.)
Er, let's see. What else?
I like classical music, and sometimes I listen to Broadway tunes. I love 2D animation and have aspirations towards artist-dom, but I'll only go for it if I'm exceptionally lucky. (Or
un
lucky. It depends on your mindset, you know?) I read Terry Pratchett and Robin McKinley with something approaching religious fervor and I love old Chinese kung-fu movies. New ones aren't actually all that bad, but like in
Hero
, while the pretty is all very drool-worthy,
I want my butt-kicking action, dangit!
And comics make me happy. *squee* I'm a complete and total fangirl.
Flight
is like this huge dream come true for me—all these fantastic people I see on the web
all in one really spiff-looking book
. It's like this drug that can be taken over and over and over again.
I guess this is all from me, until I join in some conversations and stuff. It's nice meeting you all!
Oh,
and I look like this: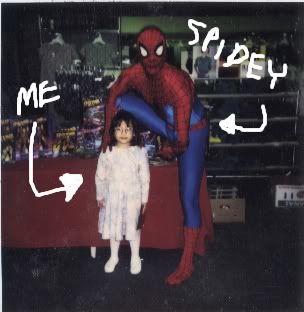 (I AM THE LITTLE GIRL.)